Get the most complete and comprehensive GAMSAT study package for Section I, II and III.  Created using the best techniques through data science, open source data and GAMSAT specialists. With more content than ever before, this complete GAMSAT preparation course set brings you all the books you need to ace your way to GAMSAT success- at an unbeatable value and price.
THE COMPLETE HOLY GRAIL GAMSAT PREPARATION BOOKS AND COURSE INCLUDES:
18 COMPLETE GAMSAT BOOKS
covering all parts of the GAMSAT: Sections 1, 2 and 3.
THOUSANDS OF GAMSAT STYLED PRACTICE QUESTIONS 
with worked solutions and explanations.
FULL-COLOUR ILLUSTRATIONS, DIAGRAMS, AND TABLES
for easy visual comprehension.
STUDY GUIDES FOR GAMSAT SECTION 3
providing theory and visual video learning for commonly tested topics in science sections.
STRATEGIC TECHNIQUES & TEST-TAKING GUIDANCE
to hone your ability to take on the GAMSAT effectively.
This complete AcerGAMSAT preparation course study guide includes GAMSAT practice test questions. The GAMSAT study guide also contains easy-to-read essential summaries that highlight the key areas of the GAMSAT exam.
The GAMSAT Exam is extremely challenging, and thorough test preparation is essential for success. The AcerGAMSAT Prep Books is the ideal prep solution for anyone who wants to pass the GAMSAT.
Not only does it provide a comprehensive guide to the GAMSAT Exam as a whole, it also provides practice test questions as well as detailed explanations of each answer.
The AcerGAMSAT Prep Books are filled with the critical information you'll need in order to do well on the GAMSAT test: the concepts, procedures, principles, and vocabulary that GAMSAT expects you to have mastered before sitting for the exam.
The GAMSAT Section 1 Humanities covers:
Reading comprehension
Critical thinking skills
Poetry
Analyses of Images & Diagrams
Cartoons
Humanities
Social Behavioural/Social Science
The GAMSAT Section 2 Written Communication covers:
Writing an essay for task A and B with modal answers. The most comprehensive section 2 guide ever!
The GAMSAT Section 3 Science Practice covers:
General Chemistry
Organic Chemistry
Physics
Biology
The GAMSAT Section 3 Science Revision Set covers:
General Chemistry
Organic Chemistry
Physics
Biology
GAMSAT sections 1, 2 and 3 are full of specific and detailed information that will be key to passing the GAMSAT Exam. Concepts and principles aren't simply named or described in passing, but are explained in detail. The AcerGAMSAT guides are laid out in a logical and organised fashion so that one section naturally flows from the one preceding it. Because it's written with an eye for both technical accuracy and accessibility, you will not have to worry about getting lost in dense academic language.
Any test prep guide is only as good as its practice questions and answers, and that's another area where the AcerGAMSAT guide stands out. The AcerGAMSAT specialists have provided scores of test questions that will prepare you for what to expect on the actual GAMSAT Exam, making AcerGAMSAT books the best GAMSAT preparation course. Each answer is explained in depth, in order to make the principles and reasoning behind it crystal clear.
AcerGAMSAT has helped thousands of people pass GAMSAT and achieve their education and career goals. This has been done by setting high standards for the GAMSAT test preparation guides, and the AcerGAMSAT prep books are no exception.
List of AcerGAMSAT Study Preparation Books
AcerGAMSAT Practice Books Section 1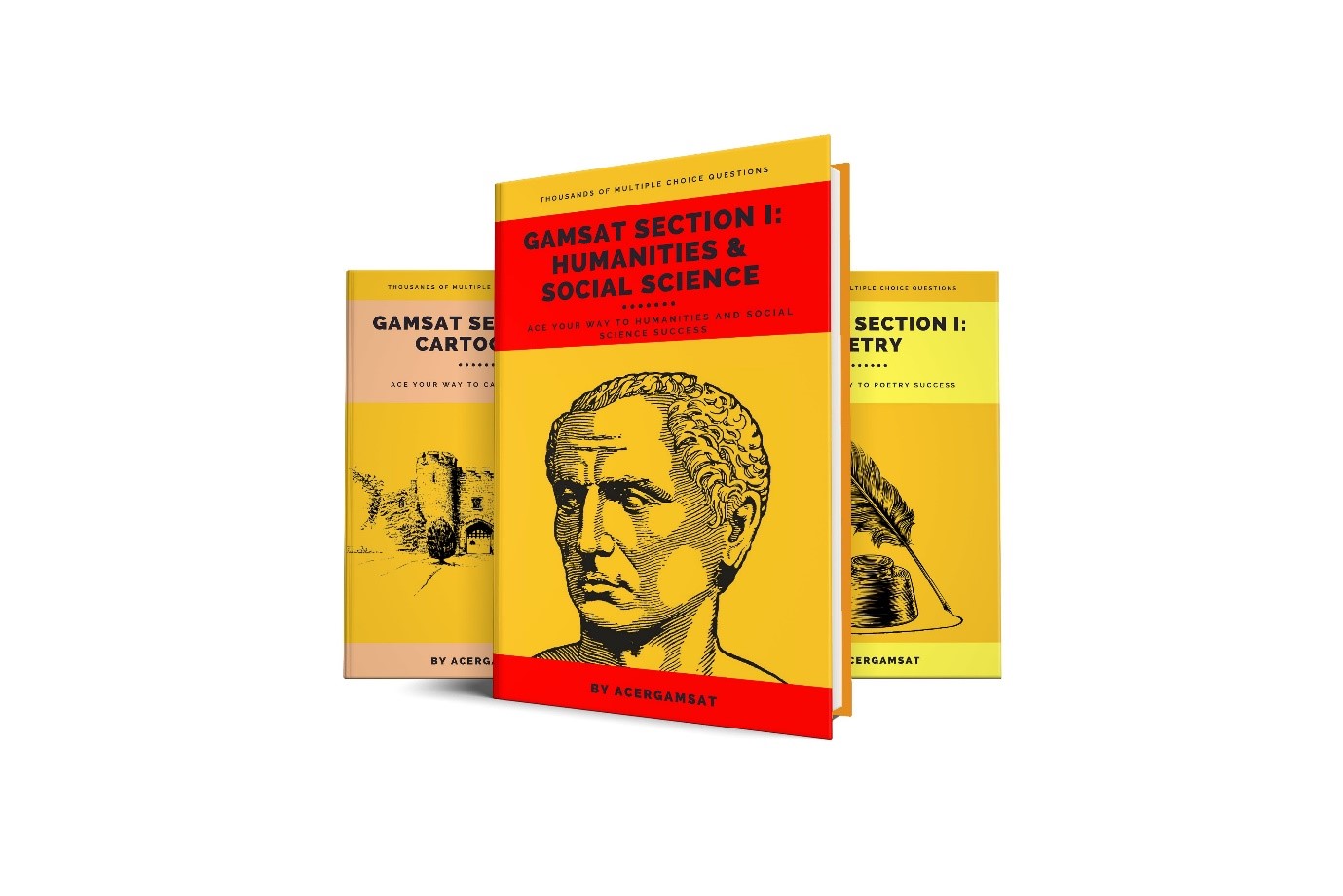 The following individual titles are included in the Complete Holy Grail AcerGAMSAT Preparation Course 2019.
In this updated 2019 edition, you'll be presented with fresh and relevant examples which will guide you through the processes of critical reasoning in a clear and engaging way. In addition, you'll be evaluating on assessing the credibility of evidence and decision making and dilemmas which will consequently equip you with the tools you need to dab to GAMSAT success.
By the end of AcerGAMSAT Section I Bundle 2019 students should be able to:
identify flaws in arguments.
analyse the reasoning in humanities and social science prose content.
assess the credibility of evidence and authorities.
make sound decisions and solve dilemmas.
approach any topic with the ability to reason and think critically.
AcerGAMSAT Section 2 Written Communication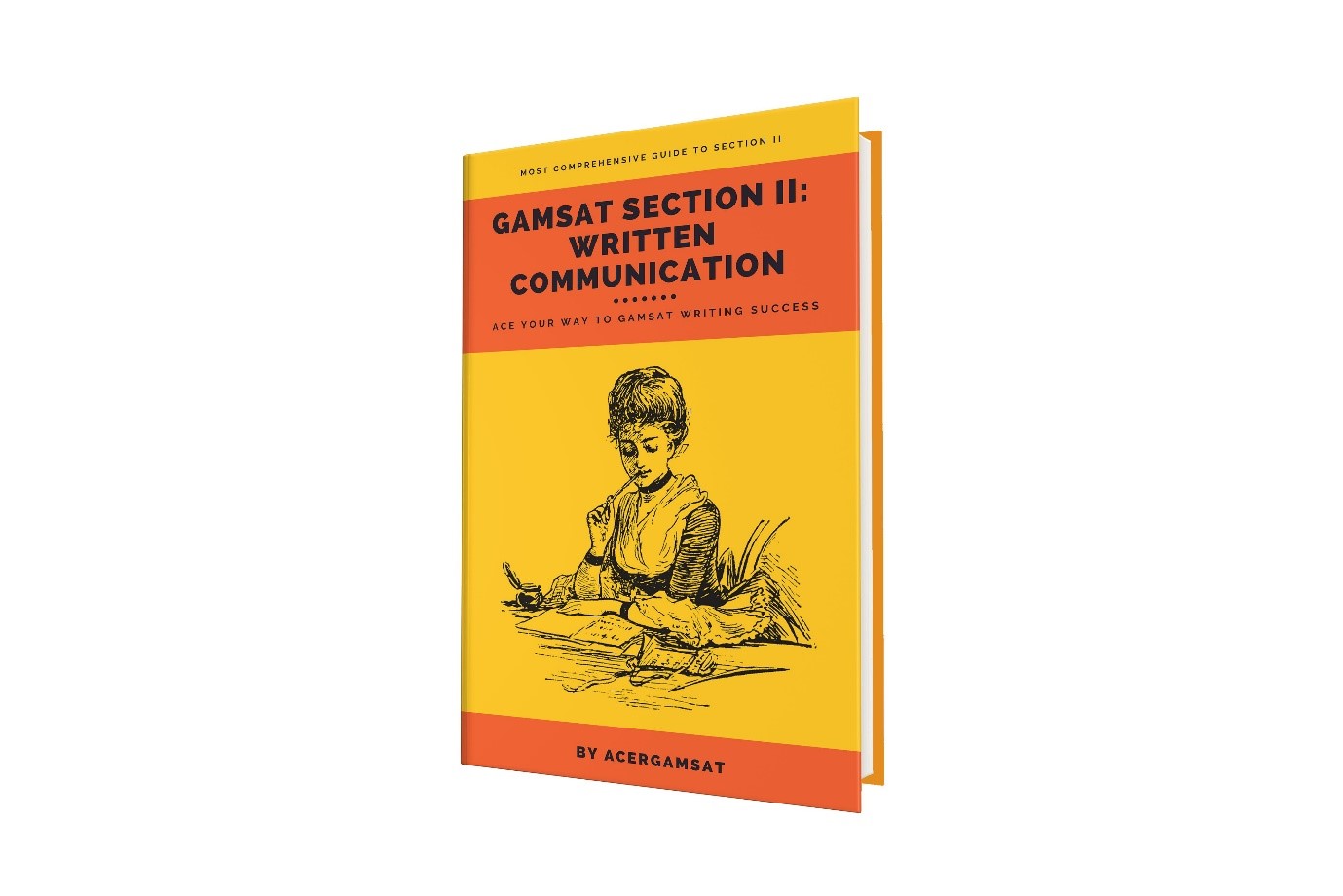 This is by far the most comprehensive Section II you will ever find. The workbook has two objectives: The first objective of these workbook exercises is to give medical students practice in writing techniques that meet the GAMSAT standards for writing and language. AcerGAMSAT ultimately want to carefully guide you through each stage of Section II from interpretation of the question, to the research, planning, writing and revision.
You'll be shown how to improve not just study skills like brain storming, reading, organisation and writing, but your thinking skills too. You'll learn how to analyse difficult concepts, criticise and evaluate arguments, use evidence, and develop your own ideas and points of views that are backed up by facts. This book gives clear practical advice, with a troubleshooting section that deals with a range of common GAMSAT Section II problems.
This book will allow you to:
Explore different writing techniques
Recognise common mistakes in the Section II writing
Master creative techniques to improve writing
Expand ideas into full length essays
Tools and techniques before writing an essay.
Creative Techniques for Using Words and Paragraphs
Identifying Illogical or Incomplete Content
Inconsistent Voice (active or passive)
Inconsistent Verb Tense (present and past) and Incorrect grammar.
Expressing the Emotions of your point of view
Using the Personification Technique
Using the Persuasion Technique
Central elements of the GAMSAT essay – introduction with thesis statement, essay road-map, and position; body paragraphs with main idea, supporting details and examples; and conclusion with overarching claim/view and final thought to leave the examiner with something to think about.
Example of modal answers broken down to give you the best possible sense of what is required when going into the exam.
The user of vocabulary and semantics
Sample essays along with the rubrics, prompts and tips making essay writing easy for even the most amateur writer
The above points are only scratching the surface.
AcerGAMSAT Practice Books Section 3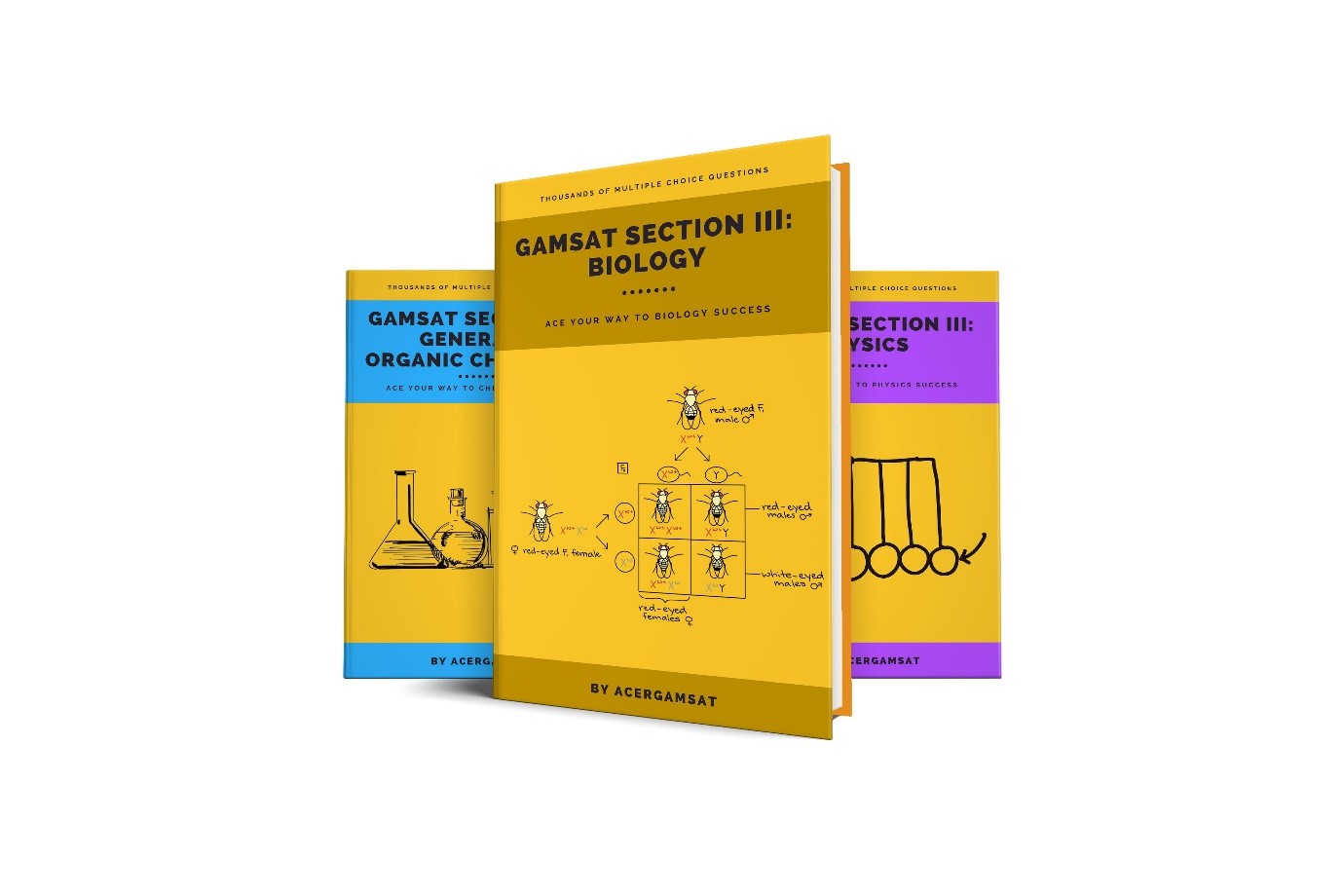 The GAMSAT is a test of more than just the facts about basic physical and biological sciences—it's an in-depth, rigorous examination of your knowledge of scientific concepts and principles, as well as your critical-thinking skills.
With the AcerGAMSAT Section 3 practice preparation books, you can focus your review on the GAMSAT science topics that are most challenging to you and frequently come up in the GAMSAT exam. Each AcerGAMSAT practice book in the series contains the most in-depth coverage of subjects tested on the GAMSAT.
The AcerGAMSAT Practice Books is the ideal guide for the most test-like practice. It is the only guide on the market with updated content and tests that actually mirror what students will see on test day, and includes strategies for each test section: Physical Sciences, Biological Sciences, Organic Chemistry, General Chemistry.
The AcerGAMSAT Section 3 practice books also provide a concise and clearly written science preparation pack designed to give students an understanding of concepts rather than merely presenting facts for them to memorise.
​
More men and women are admitted to medical school with AcerGAMSATs prep books and courses than any other provider or curriculum of its kind.
Each practice passage in the series above includes:
Full-colour illustrations and diagrams.
Carefully designed authentic GAMSAT-style practice passages and questions to represent the specific patterns of the actual GAMSAT Section 3.
Worked solutions to answers.
GAMSAT Revision Books Section 3
AcreGAMSAT also offer the most Complete A to Z science revision pack you'll ever need.
The Holy Grail Revision set contains a detailed guide on what will and won't come up in the GAMSAT Section III Exam. A revision pack that contains only the sections that you should revise. It is important to note that there is no one answer fits all study pack. Most study packs offered by other eBook GAMSAT prep providers mainly source their science section packs from what AceGAMSAT will provide you in their free study guide, but what AcerGAMSAT have done is gone that step further and filtered and summarised the most important areas with unique insights into subject areas that will arise in the GAMSAT; and we can confidently stat that no other GAMSAT Section 3 revision book can reassuringly provide.
AcerGAMSAT know exactly what will or won't come up in the GAMSAT exam, saving you countless hours of reading EVERYTHING.
Bonus Material
AcerGAMSAT also provide a free GAMSAT Section I Mastering Humanities book and the opportunities to submit 3 Written Communication Tasks A and/or B and get them marked for feedback. You'll get an email with instructions on how to do this. You'll also get 24.7 to AcerGAMSAT's tutors so that you can ask as little or many questions as you want for up to 30 days before the GAMSAT exam sitting.
Why Buy AcerGAMSAT Books?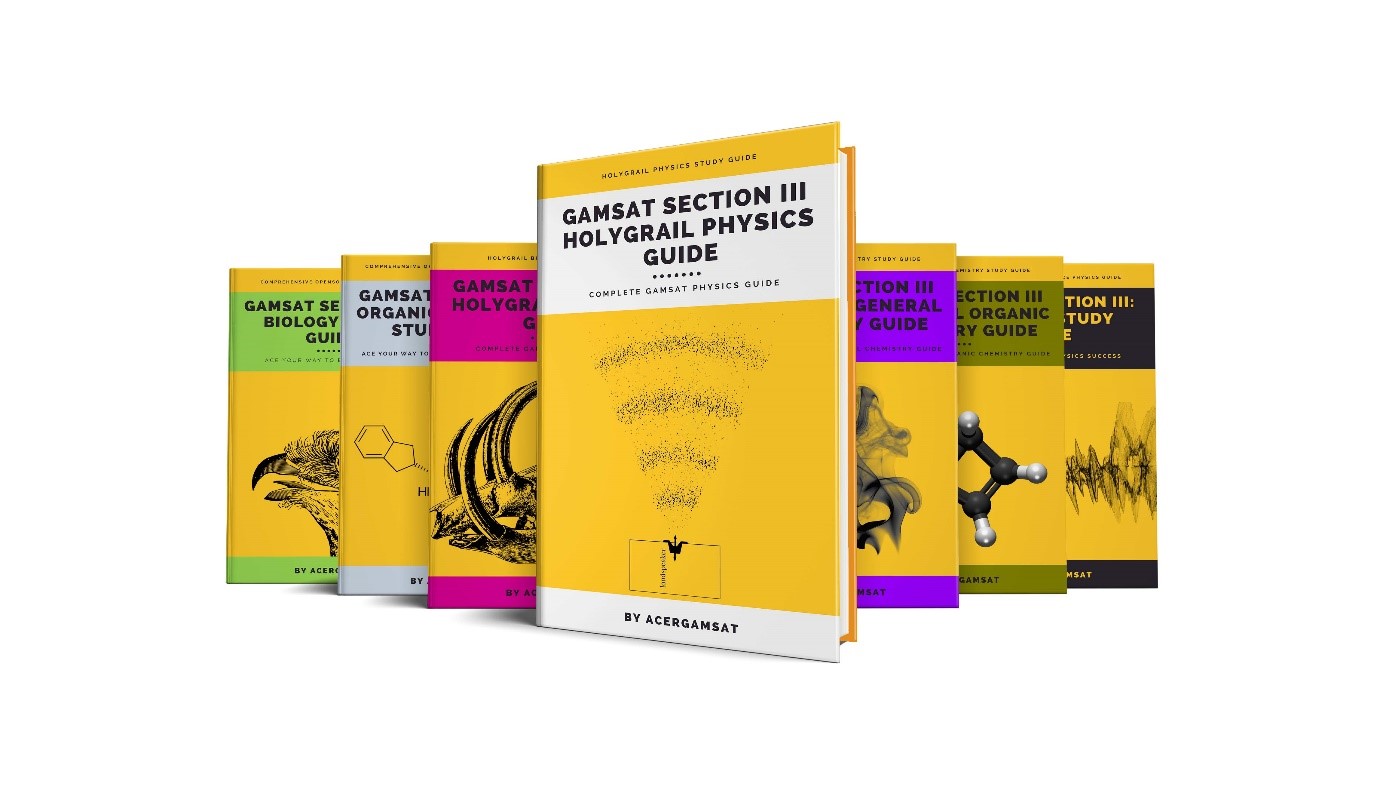 Because AcerGAMSAT are uniquely placed in that we are the only GAMSAT education provider to utilize and leverage the power of data science and opensource in the creation of their books. This not only ensures that their study materials are ahead of other GAMSAT study providers, but we also guarantee you'll pass your GAMSAT with flying colours and walk out of the exam dabbing your way to GAMSAT success.
By applying skilled data scientists into analysing thousands of data both from worldwide examinations that are similar to the GAMSAT and historic data on previous GAMSAT exams, AcerGAMSAT have been able to streamline their GAMSAT practice books by making them more targeted when it comes to practising for the GAMSAT.
No other GAMSAT prep company has as much useful data on the GAMSAT than we do, and this puts AcerGAMST far beyond the competition(s) by miles.
So What Issues Are AcerGAMST Addressing?
Issue 1
Most other prep companies unfortunately do not update their GAMSAT content. Because AcerGAMSAT are always ahead of the curve by iterating on their books with the help of data science AcerGAMSAT are able to change and tweak their content in real-time. We found that some prep companies only ever change the dates to reflect the new GAMSAT period, whilst still keeping the same blurbs, multiple choice questions and format from the previous year(s).
Issue 2
Regardless of what you think, you need to study for the GAMSAT – especially section 3. If you're going into the exam without some prior knowledge of science concepts then you might is well not go. Yes, GAMSAT is all about reasoning but GAMSAT expects you to have some knowledge on what your reasoning. Most GAMSAT books now come with some sort of study pack for section 3. We found that this heaps an excessive amount of redundant information on students as they already possess vast amount of scientific books from college/university. By solely focusing on creating the best practice books, AcerGAMSAT have been able to concentrate on delivering quality and not quantity. As an added bonus, what we have been able to do is curate some documents together that consist of open source information broken down into what topics you need to study for GAMSAT Section.
Issue 3
AcerGAMSAT ran an analyses that showed that many GAMSAT prep companies fail to thoroughly contain detailed answers and explanations pages to their practice material. How on earth are students supposed to understand what they answered wrong/right if you do not tell them.
Issue 4
Many GAMSAT Home study courses are fairly static throughout the year. For example, if you choose to buy product X in September and then you choose to buy the same product X again in December (or whatever month of your choosing), you'll be almost guaranteed to download the same content/book each and every time. AcerGAMSAT's content is unique in that we deploy algorithms to uniquely regurgitate different practice questions straight from AcerGAMSATs huge database.
This is really important because it allows different students to also have different questions. So if friend A buys from us and then friend B also buys from us, you can have the best of both worlds and be exposed to even more questions/blurbs/units/passages. This is unprecedented and no other GAMSAT prep company provides this level of sophistication. ​
Issue 5
AcerGAMSAT have addressed the fact that some prep providers are not testing their students. Statistically, students performed much better in the GAMSAT exam when they were tested by applying memory knowledge of previously learnt knowledge – particularly in the science section.
AcerGAMAT's questions vary in that they are like-for-like GAMSAT in testing reasoning, but you'll also stumble upon blurbs that push you to your limits and really take you out of your comfort zone. You know what they say right – sink or swim. It's the best way to learn.
Issue 6
AcerGAMSAT have set out to produce the best and most comprehensive book for section 2 of the GAMSAT. One of the biggest feedback AcerGAMSAT received from students was the lack of detailed books on section 2. So they set out to fix that by applying all the data AcerGAMSAT had in their analyses to create a valuable and quality orientated book that concentrates on all aspects of Section 2 Written Communication.