When comparing antivirus software, there are a few factors to consider. The most obvious being its protection level, how reputable the software is for threat detection. Other factors include cost, user interface, amount of computer resources consumed, and additional features (firewall, VPN, etc.).
In this article, we will highlight some of the more popular antivirus software, for you to make a more informed decision on which antivirus is best for you. If you'd like more in-depth reviews of each product, I'd recommend Antivirusrankings.com, which covers many available antivirus programs, and even has a top 10 list.
Please note this list is not in any particular order such as best-to-worst, it is merely an examination of various antivirus software available. It really boils down to your type of activity on the internet, and how experienced you are with avoiding threats. Advanced users may be content with a simpler antivirus program and a good adblocker, while less experienced users may need more advanced protection. Having said that, no matter which category you fall into, you definitely need antivirus of some type.
Avira
Avira Antivirus is a decent option, having a great reputation in the past, though in recent times its been outshined a bit by the likes of Kaspersky and Bitdefender. It's not that Avira is bad, it does offer good threat protection, but it has a rather intensive load on system resources. This means that it will slow down your machine rather significantly during intensive scans, particularly if you aren't using a high-end power machine.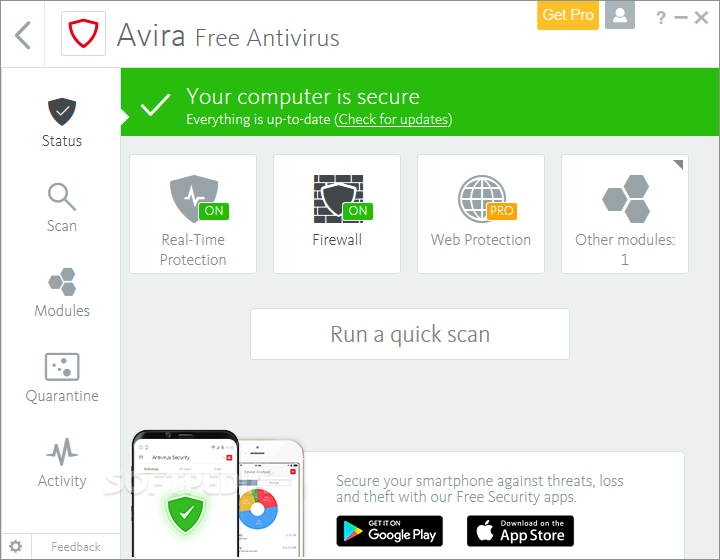 Avira comes with a firewall and browser extensions, which are nice. The browser extensions work by rating websites based on reputation, though reputation should not ultimately be a deciding factor, as many popular websites have fallen victim to malvertising ads in their ad networks. The lowest Avira plan starts at $5 per month, and offers protection against ransomware, infected USB drives, and a hardened browser. As usual with antivirus software, higher plans offer additional features. For more information, you can check this avira antivirus review .
Kaspersky
Often highly rated and judged to be the #1 antivirus software in the world, Kaspersky definitely has a strong reputation in its favor. Russian hackers are known for their complex viruses and malware, and so the Moscow-based Kaspersky Labs has experience in dealing with highly complex threats.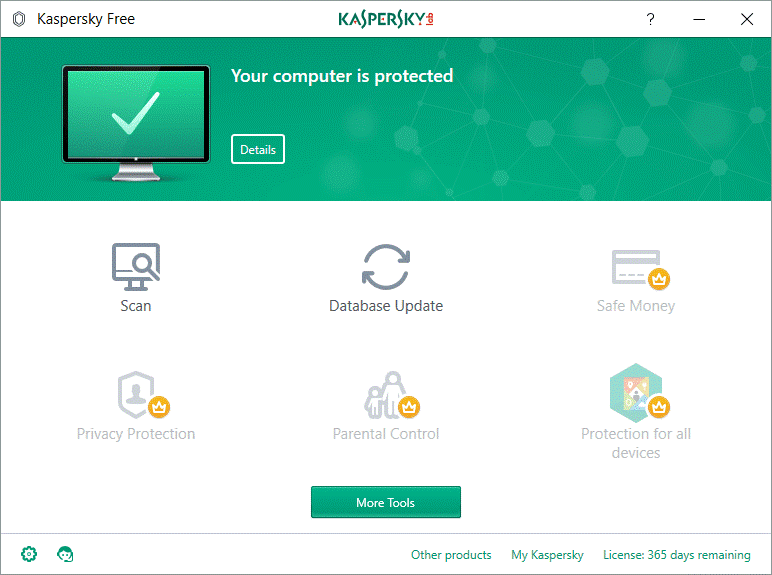 There's really very little to say about Kaspersky, because its reputation usually precedes it. Just know that Kaspersky is consistently rated as having the best virus and malware protection around, with a light performance impact on your computer. Even the free edition of Kaspersky does a fantastic job of protecting you, while a paid version offers numerous additional features that protect you in many scenarios beyond internet browsing.
Avast
Avast is other popular name in antivirus. It has a good reputation for threat detection, and the free edition comes with some features you would normally find in paid software. Those features include a password manage, Wi-Fi scanner, and browser plug-ins for increased security on the web.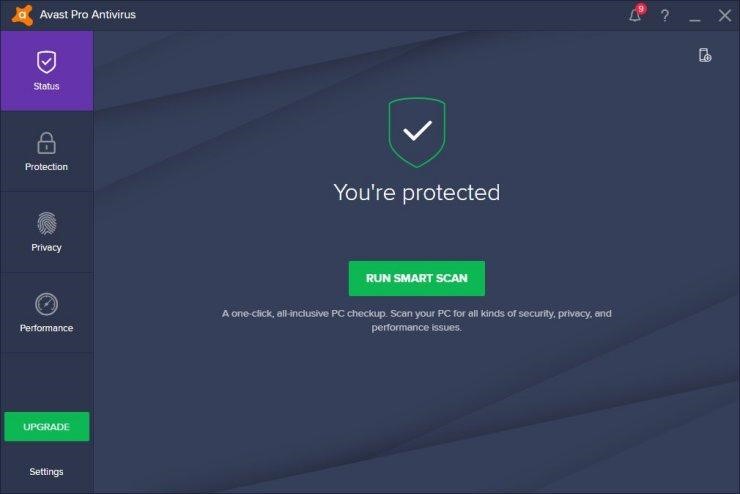 The paid version offers a firewall, file encryption, and some other additional features. The drawback of Avast is that it can be a bit resource intensive, and the malware protection is not as strong as some other programs available. Still, Avast is a good choice for users who like extra features and high customization ability in a free version of antivirus.
AVG
For a decent lightweight antivirus, AVG offers an acceptable balance between performance and threat detection. It doesn't have the best malware protection around, but it's small impact on computer resources can be desirable for those who are a bit more careful about their browsing habits.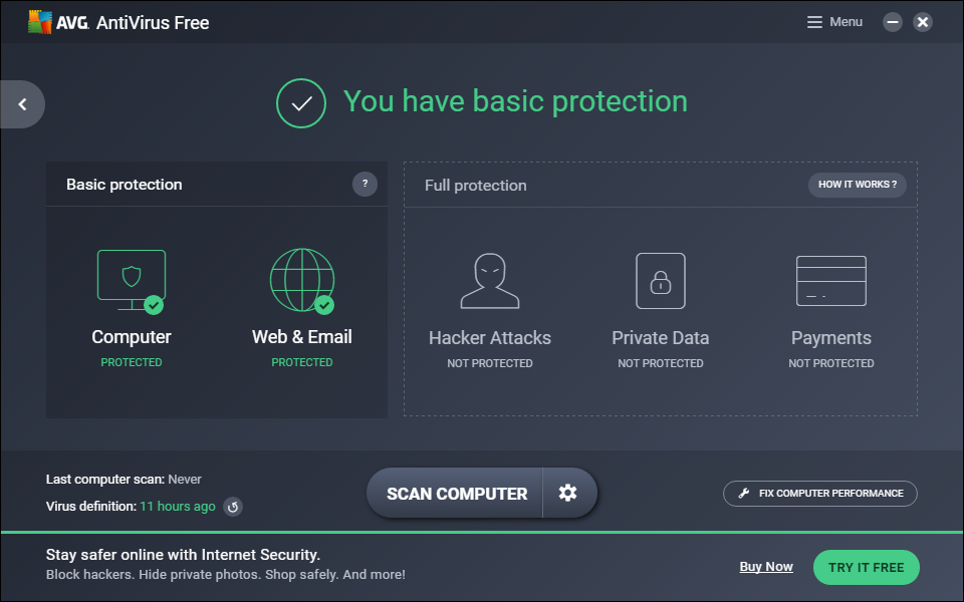 The paid version of AVG does offer a few more features, such as a firewall, ransomware defense, and webcam protection. As a free antivirus, AVG can do a decent job, though there are better options when you want to spend money on an antivirus subscription.
McAfee
McAfee comes pre-installed on many desktops and laptops, and it was considered one of the worst antivirus softwares available for a long time. Not to mention the public antics of its rather eccentric founder, John McAfee. Yet a brand new engine in 2017 changed some of that, and McAfee stepped up to the big leagues.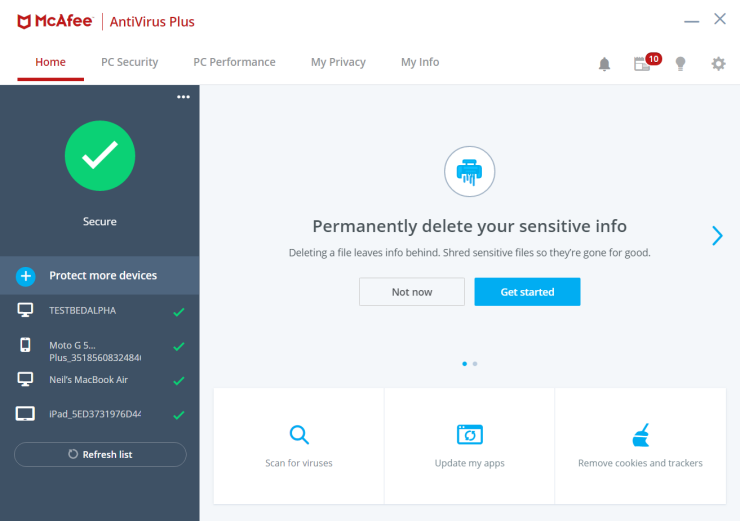 McAfee Antivirus nowadays has some highly accurate threat detection, a low impact on system resources, and a handful of useful features. As basic protection for a family computer, McAfee can typically get the job done. Its most basic offering at $40 a month offers a file shredder and vulnerability scanner, while higher tier plans offer additional features.