Hair loss is something that most people in their life are probably going to have to deal with. The stats show that right now approximately 35 million men and 21 million women are suffering from hair loss? (Myself included!)
A British hair supplement brand kindly reached out to me to see if I wanted to try out their product. The company are called It Really Works Vitamins and they have an offering called The 90 Day Challenge.
Vitamin D for the hair
Research suggests that a lack of vitamin D in your body can lead to hair loss. When there isn't sufficient vitamin D in your system, new hair growth can be hindered. Vitamin D molecules present in your skin are activated by the sun. Unfortunately, overcast skies and lack of sunshine, are common for people living in many European cities.
Therefore in parts Europe, vitamin D deficiency is known as an epidemic. One of the sunniest places in Europe, Malaga, gets around 3,000 hours of sunshine per year. On average, there are 10 to 12 hours of sun per day during the summer. During December through to February, Malaga weather also consists of at least five – six hours of sunshine during these months. This is almost three times the amount you'll see in some parts of the UK.
They ask that you try out their hair supplements for 90 days and if you're not happy with how your hair is looking then they'll give you a full refund.
At first I wasn't sure about trying them out as the branding is very masculine but the guys at It Really Works Vitamins mentioned that they're also suitable for women (as long as I'm not pregnant or breastfeeding) Also, the supplements are Vegan and supposedly don't come with any side effects so I decided to give them a go.
It Really Works Vitamins contain twenty-two minerals and vitamins, which the brand claims will encourage normal hair growth. One of the ingredients is Keratin – a compound that helps to make up your hair, as well as Retinol, Zinc, Selenium and Biotin, which nourish the scalp and (if you're a guy) help to flush out DHT, (which is the hormone that leads to male pattern baldness)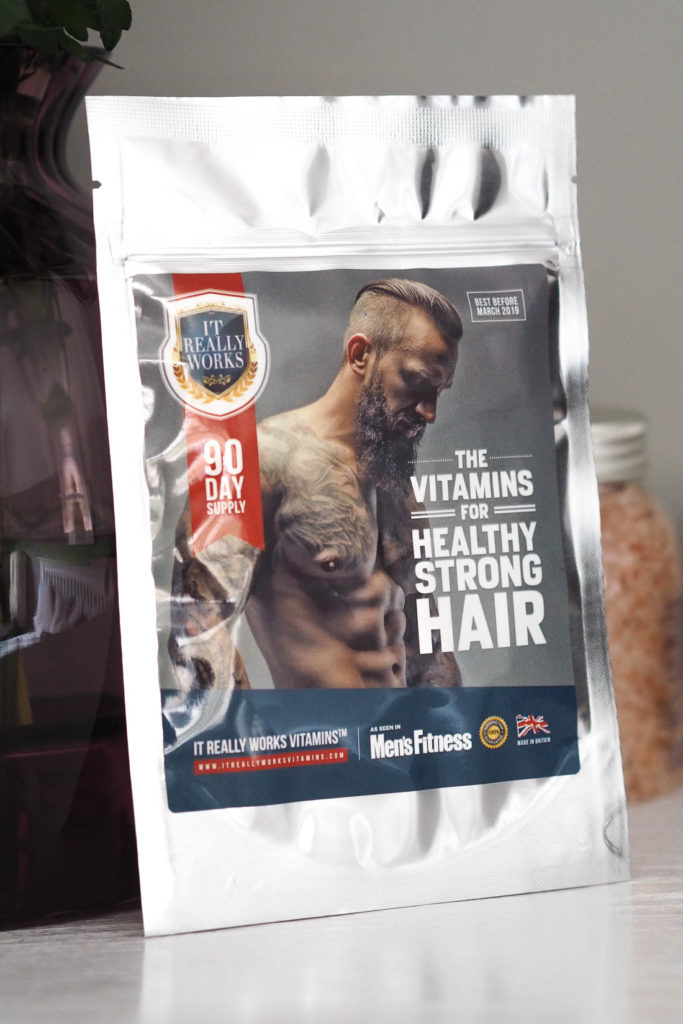 Okay so, so far I'm 2 weeks into my hair growth journey and the results seem good. Here's my It Really Works Vitamins before and after. 
Before the hair vitamins I'd notice hairs in the shower and a few on my clothes and pillow each day but I've noticed less hair falling out.  Also, when I'd brush my hair, quite a few hairs would come out on the brush, but now I'm noticing fewer hairs shedding
TBH I'm not sure how fast my hair was growing before, but I think these hair vitamins have definitely speeded up my hair growth.
The pack says to take two vitamins per day, both with meals and water. I take mine at lunch and dinner. These hair vitamins are quite strong on the system so I've been taking them toward the end of each meal so I have a nice full stomach.
I've also found that my skin is looking a little fresher and brighter too.
I'll keep you guys posted as I progress on the 90 Day Hair Growth Challenge and I'm looking forward to sharing pictures!
Have you guys tried It Really Works Vitamins? What did you think? Please do comment below and I look forward to updating you in a couple of months,