Just a few days left until the day of love! Love and romance are already in the air – can you feel it too?
Valentine's Day holds such a special place in the calendars of people who believe in love – and in making their partners feel special. While many men wait for this particular day of the year to get down on one knee and propose to their loved one in the most special and memorable way possible, others like to keep it light and simply enjoy a gourmet candlelight dinner with their partner.
No matter which category you fall into, Valentine's Day calls for special preparation and precise arrangements to make sure nothing goes wrong on the important day.
Women get a chance to feel adored and valued on Valentine's Day when their partner showers them with love, care, and appreciation, expressing their hearts out – which many men might not do every day.
As much awaited as this day usually is, it can get pretty stressful too regardless of how long you have been together with your partner. From pretty keepsakes to special experiences, choosing the perfect gift for your girlfriend or wife for an auspicious day like February 14 can get overwhelming and confusing.
Since there is not so much time left for you to run around for creative ideas to plan the perfect date and buy the perfect gifts, we are here to help you by giving some helpful tips on how to make this Valentine's Day the best of your life!
Now before we jump into the pool of ideas, we understand how there are different stages in a relationship. And of course, considering the stage you are in does matter while planning for the special day. Each relationship stage has its own charm and with our ideas, you can add to the affection and love it holds and even take your relationship to the next level this Valentine's Day if you want!
The 'Just Met' Stage
Have you recently met an interesting woman whom you hit it off with at the very first date? Or maybe you have just realized that you have fallen in love with your friend – and can't get over the excitement.
The 'just met' stage is where attraction and excitement are at its peak in a relationship. You are flying on cloud 9 and you feel butterflies each time you look at your partner or hold her hand. While everything in the first stage of the relationship is beautiful, you probably cannot wait to confess your feelings to 'the one' and make it official.
This relationship stage is where you cannot seem to get enough of your newly found love and cannot wait to sweep her off the ground each time you see her.
When everything in the 'almost official' relationship feels perfect, why should there be any potholes in your planning for this Valentine's Day? You have probably only started getting to know her and now, you have to plan a day to make her feel special! You may feel uncertain as to whether she would like something or not. The key is to keep things simple yet special. Going overboard might scare her away or make her think of you as an overly loving person – and you wouldn't want that!
Don't freak out – we have some amazing ideas to help you make that special someone feel loved like never before on this Valentine's Day.
Ideas for the Perfect Date:
Go on a sweet date – no dinner, just desserts and drinks
Enjoy a low-key date – grab some snacks and a blanket and go stargazing!
Take her to your favorite place in the city or ask her to take you to hers
Watch a sports game together if you both are a fan
Take her chocolate tasting – if she likes chocolates, she'll love you for this!
Ideas for the Perfect Gift:
Tickets to a good movie
A bouquet of beautiful flowers
A box of chocolates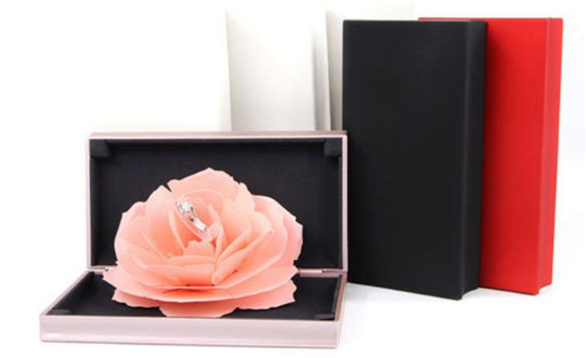 If you are planning to propose to the love of your life this Valentine's day, we have something special for you. Our Elegant 3D Rose Ring Storage Box will leave her awestruck! This high-quality box has a unique design, featuring a rose inside that holds a ring. With this box, a surprise proposal cannot go wrong! Image text: rose ring storage box
On the other hand, if you have already proposed her and want to keep things fun and cute this Valentine's Day, you should check out our "Her One His Only" Necklace and Pendant. Made with the finest quality stainless steel, this necklace can be a great gift for someone you love.
The Stage Where Everything is Going Steady
The second stage of a relationship is when you and your partner are officially in a relationship and this might not be your first Valentine's together. The spark may have died a little bit but your love for her surely hasn't!
You have started getting more comfortable around each other and can perhaps feel an emotional connection with one another. This is the stage where you get to know each other's likes and dislikes better and just start being yourself around each other.
You have already confessed your feelings for your partner and so, you can go on the more romantic side without worrying about being too extra.
Ideas for the Perfect Date:
The classic dinner date at a fancy restaurant
Take her to your hometown or hers and get to know each other even more
Take her to the opera
Enjoy a picnic under the night sky
Get a custom-scent made for her
Ideas for the Perfect Gift:
A rose bouquet
A gift set from a cosmetic brand of her choice
A nice silk dress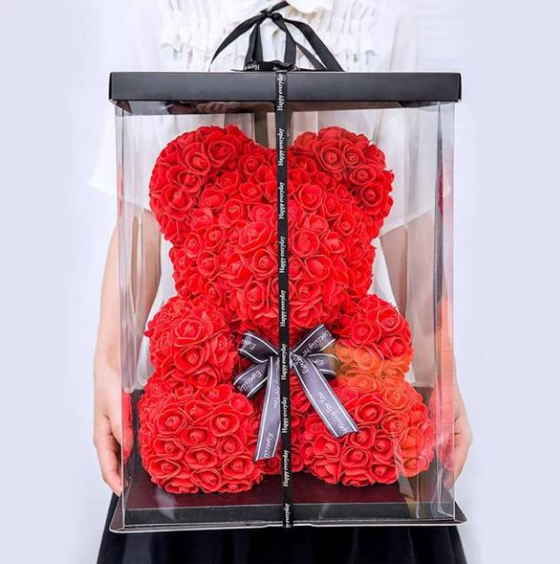 A customized name necklace
If you are looking for something not so ordinary, then our Forever Rose Teddy Bear is truly a steal! Adorable and soft like a teddy bear, it actually is a bouquet of roses on a closer look. This beautiful gift is guaranteed to earn you some extra brownie points this Valentine's Day and show your loved one how much she really means to you.
You should also check out our I Love You Charm Bracelet if you have recently discovered her love for jewelry items. She will love the quality of this bracelet – and the fact that it can go with all outfits is definitely a cherry on top!
The 'Seriously Committed' Stage
The third stage of a relationship is when you are super comfortable around your partner. This is the stage where people sometimes think they don't need to go the extra mile now since their partner is truly theirs.
You both are past the struggling phase and going strong – thumbs up for that!
However, it's time to step up your game this Valentine's Day and show her that you not only love her but are also happy to be hers. Trust us when we say that it feels great to be on the receiving end of sweet, romantic gestures, especially when you have been in the relationship for quite some time.
Ideas for the Perfect Date:
Go for a fun camping trip
Take her for a hot air balloon ride
Do something productive together – you will have something that you did as a couple to look back at
Plan a train ride
Ideas for the Perfect Gift:
A watch
Get her the equipment/gear for her favorite hobby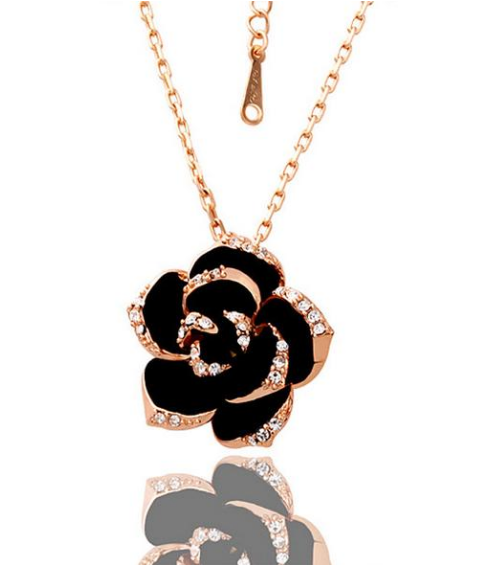 A good-quality spa kit, comprising of lotions, candles, oils, and soaps
When it comes to picking the perfect gift to rekindle the love between you and your partner on Valentine's Day, it doesn't get better than our His and Hers 'I Love You' Couples Necklace! This matching set features a classic heart design, making it the ideal romantic Valentine's Day gift.
Another gift item that your partner is bound to fall in love with is our Rose Gold Plated Large Onyx Rose Petal Necklace. This elegant piece of jewelry will steal her heart instantly and put her in the spotlight as soon as she adorns herself with it. The bold black color of the rose petals adds beauty to this delicate necklace.
The Mr. and Mrs. Stage
If you are at this stage of your relationship, you and your partner probably have a lot of history together. Looking back at the time when you two got together can bring lots of sweet memories rushing back, making you feel nostalgic. The fact that you have reached this stage in your relationship means that your love is strong enough to beat anything that comes in its way and is not the least bit afraid to shine through.
Marriage is a beautiful bond. No matter how long you have been in a relationship with your partner, look at marriage as a new journey. It is the beginning of something great – perhaps a family or simply a strong couple. Now that you have tied the knots, you may be confident in love like never before.
Despite the shift in the role of your partner from your girlfriend to your wife, Valentine's Day remains equally special. This February 14 make sure you make your wife feel special and show her how much you love her.
Ideas for the Perfect Date:
The best way to enjoy this Valentine's Day with your wife is by recreating your first Valentine's Day together, reminiscing all the moments of love and romance that you have spent in between.
Here are some date ideas to make this special day worth remembering for both you and your partner.
Enjoy a couple's massage therapy together
Have three-course meals at places that you hold dear as a couple
Enjoy a day date with a champagne brunch
Rummage through old photos and take a trip down the memory lane
Play a sport together that you both enjoy
Try her favorite hobby and make her try yours
If you both like pets, visit the animal shelter and adopt one
Ideas for the Perfect Gift:
A nice, classy purse that you know she will love
A weekend getaway together to a romantic destination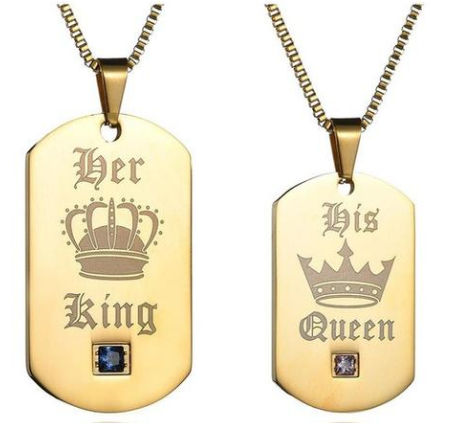 A rose for every year that you have spent together as a couple
This Valentine's Day, your wife deserves to feel and be treated like a queen! And so, you should get your hands on our Gold Plated "Her King His Queen" Necklace and Pendant. This couples' necklace will always be a unique gift that she will cherish for years to come!
You should also check out our Rose Gold Plated Half-Hearted Crystal Inlay Necklace if your wife is into jewelry items. This necklace is specially made to last a lifetime – just like your love!
This Valentine's Day, get ready to steal your partner's heart all over again with a romantic date and a special gift. Dizyrd is a one-stop shop where you can find the perfect gifts to make your girlfriend or wife ecstatic and over the moon! Look through the entire collection and order away before the stock runs out!